Christmas Tablescape
DIY ProjectsHoliday ProjectsColor InspirationWritten By Miss Mustard Seed's Milk Paint Team
A few weeks ago, we shared how easy it is for you to create a beautiful tablescape for Thanksgiving.
Then, we showed you how to carry the colors you picked for that project over to your Christmas tree trimmings and holiday decor.
Now, we're ready to show you how easy it is to bring merriment to your Christmas tablescapes using MilkPaint™!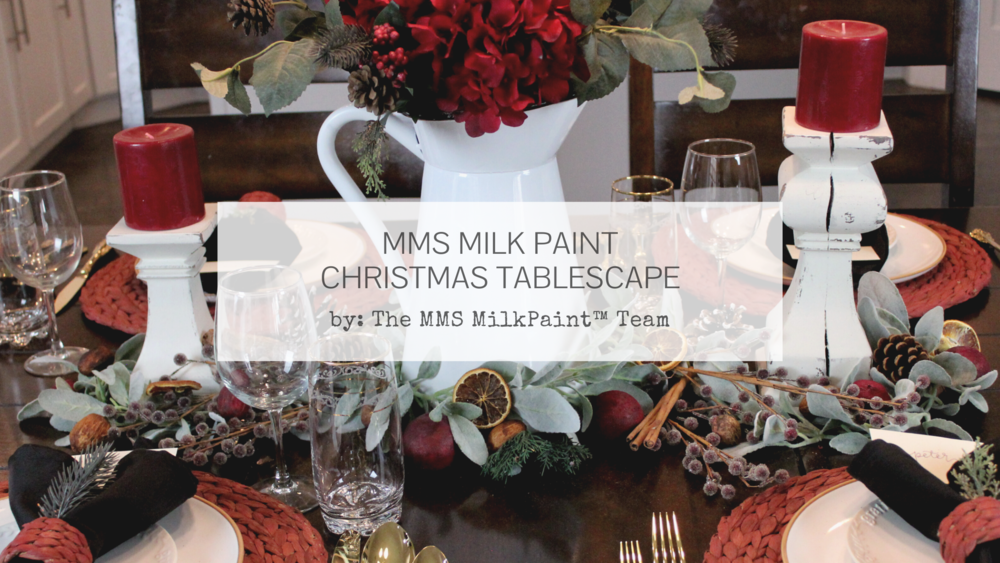 The Place Settings
To keep things easy, we set up our Christmas table settings like we did for Thanksgiving.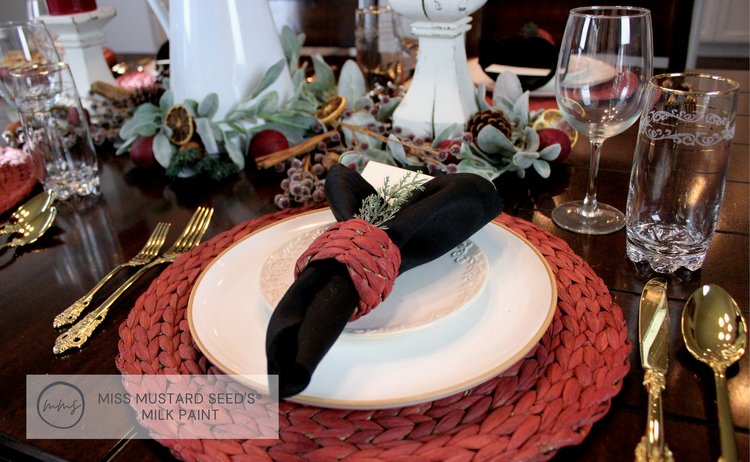 We kept the same dishes, silverware, placemats and napkin holders. All we changed is the color of our napkins and the floral sprigs tucked inside. The woven placemats and napkin rings from IKEA were painted in Schoolhouse Red. This gorgeous color is so versatile for this time of year!
4 Christmas Tablescape Centerpiece Ideas
Once our table was set, it was time to decide what we wanted in the middle. We gave you 3 centerpiece options in our Thanksgiving post, and we have more fun ideas for a Christmas table!
Food-Safe Dough Bowl
Our first idea reminds us of Charles Dickens' Ghost of Christmas Present in his novel, "A Christmas Carol". This spirit symbolized generosity and joy while seated amongst a bounty of food and drink.
We wanted our Christmas guests to feel the same way, so we placed a dough bowl in the middle of our table and stuffed it full of warm and crusty rolls.
We made a ring around the dough bowl with dried fruits, cinnamon sticks, pinecones and lamb's ear.
To keep our dough bowl food-safe, we sealed it with our MilkWax-Eco™ Clear. This is the same dough bowl that held our gourds in our Thanksgiving tablescape.
You can keep a dough bowl like this on your table all year long. By simply swapping out the decor in and around it, you can easily switch from one holiday to the next.
Candles, Candles And More Candles!
There's nothing more cozy than the glow of candlelight during this time of year. These candle centerpiece options will certainly give you plenty of ambiance!
These wooden pillar candle holders were painted in 2 colors. First, we applied a layer of Trophy as the base. Then, we painted on a 4:1 ratio of Schoolhouse Red and water. All 3 are protected with MilkWax-Eco™.
A bundle of pine sprigs, pinecones and berries make a sophisticated statement, don't you think?
If these are too chunky for your taste, we trimmed things down a bit with this next option: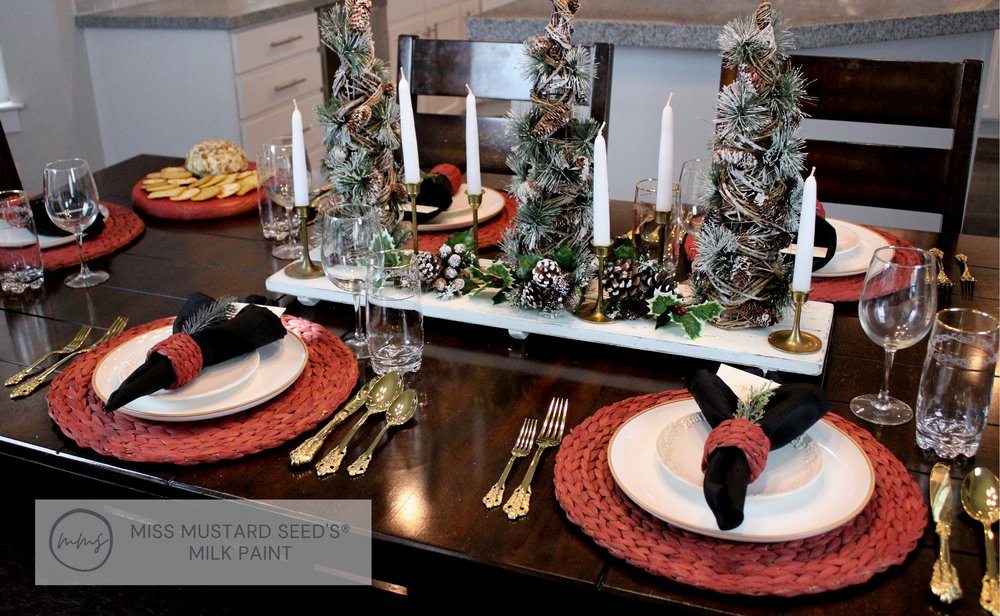 These taper candles sit elegantly in brass candlesticks that vary in height. This mis-match keeps the eye moving all down the length of the centerpiece.
As far as the color of your tapers, you can add whatever speaks to you and works with your decor. We chose white to keep things clean and fresh.
To bring some uniformity to the vignette, we added 3 pine trees of similar height. The slender shape of our taper candles worked well with the narrow profile of the pine trees.
For this option, it was all about tall and skinny!
The White Enamel Farmhouse Pitcher
If you're a lover of the farmhouse style, like we are, then this option is going to feel just right!
This white enamel pitcher is a fabulous way to add height and brightness to your Christmas tablescape.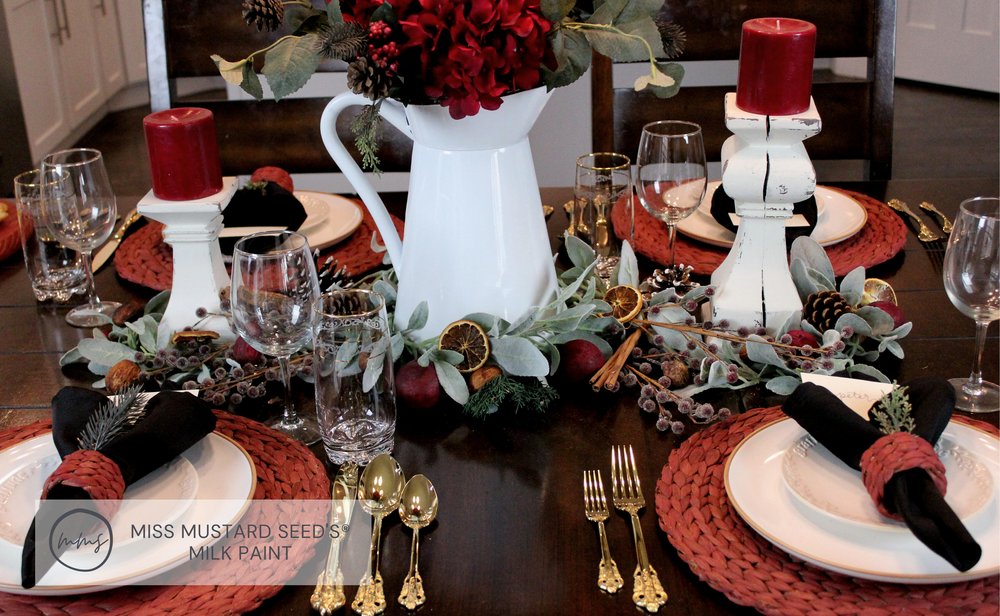 For Thanksgiving, we filled it with harvest florals and placed it on top of an autumnal leaf runner.
By changing out the florals and flanking the pitcher with white pillar candle holders, we were able to transition from fall to winter in no time flat!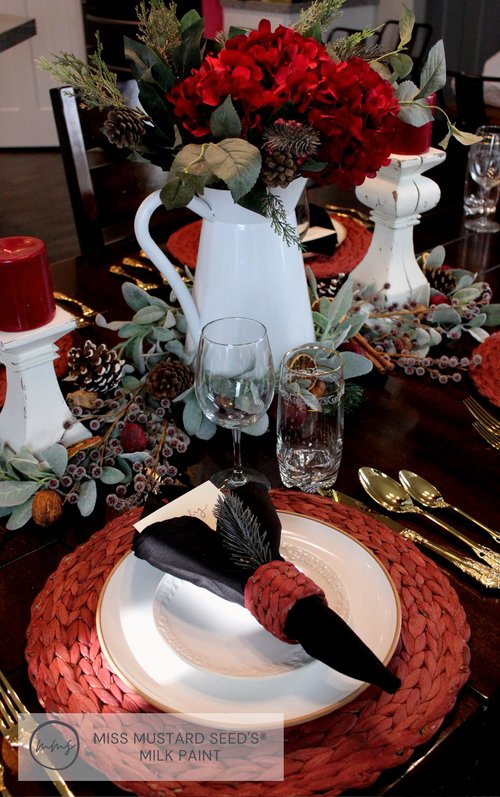 It's All About The Buffalo Check
Remember our Christmas tree that we shared with you last week?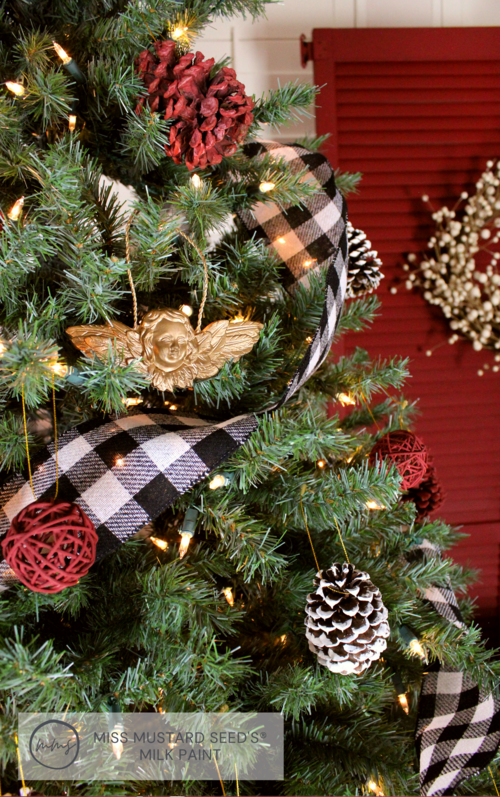 Black buffalo check ribbon was woven all around the boughs of our Christmas tree. We thought it would be fun to add it to the presents below as well!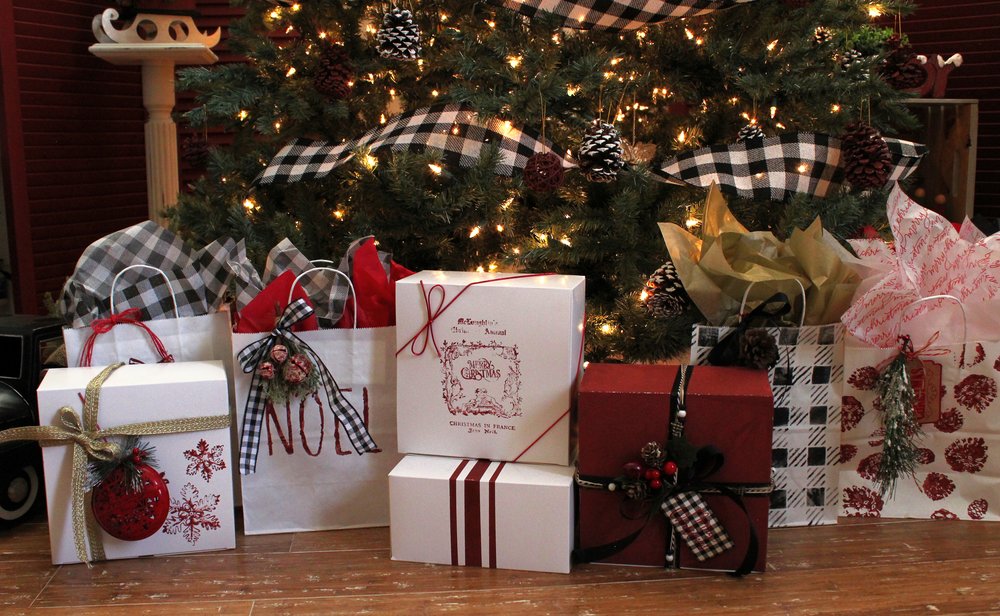 Since buffalo check was on the tree and the presents, why not add it to the Christmas tablescape too? We took that same ribbon and wound it through the brass candlesticks and added holly berries for a classic finish.
A Unifying Design
After seeing how we've decorated for the holidays, we hope you're inspired! Can you see how keeping your color palette and decor scheme consistent makes it SO easy to decorate seasonally?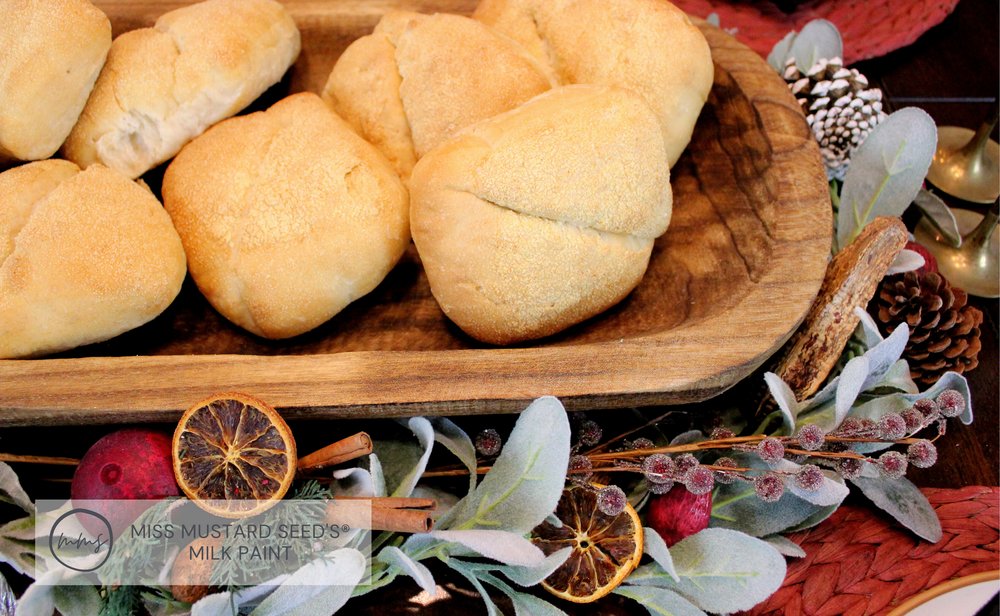 All that you really need to change out are florals and perhaps an accent or two.
Not only is this incredibly time-saving, but it's economical! Let's face it, holiday decorations can be $$$! By having foundational accents in your dining room like risers, candlesticks, dough bowls, charcuterie boards and placemats, you can mix and match them all year long no matter what holiday is coming up!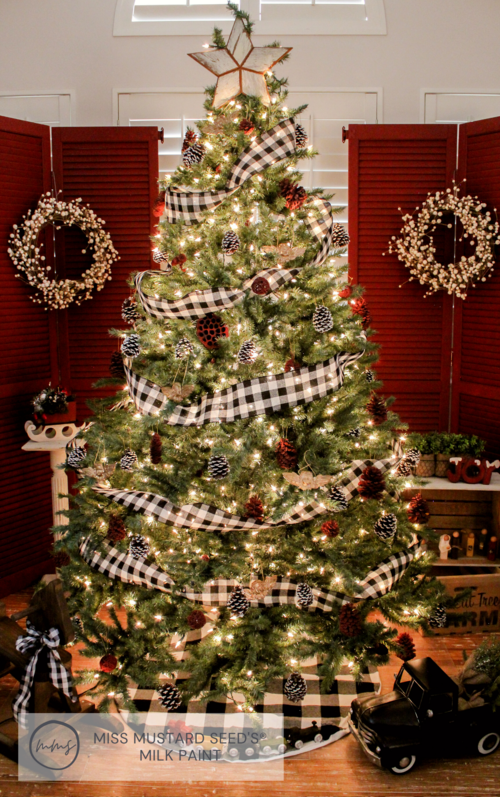 Now comes the hard part – picking a color from our collection. There are just too many pretty choices! What's a decorator to do?
Hmmm…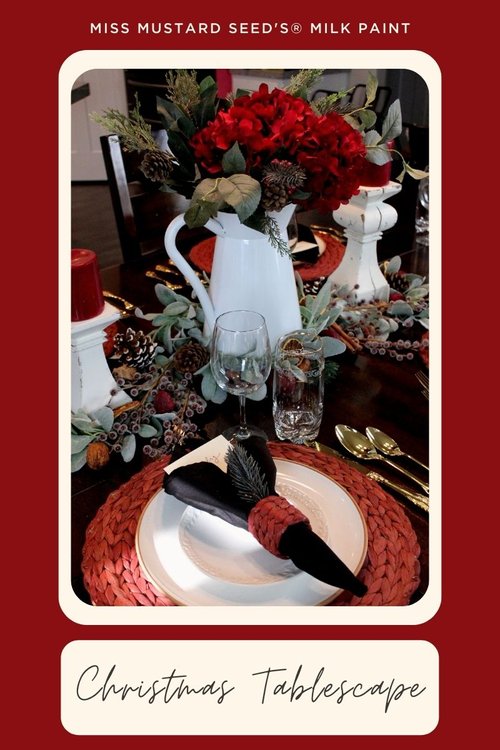 Schoolhouse RedTypewriterIronstoneChristmas CraftsChristmas DIY ProjectsChristmas OrnamentsNatural Christmas DecorationsAll-Natural PaintFood Contact SafeFood SafeNon ToxicCandle HoldersCandlesticksPillar Candle HoldersPlace SettingPlacematsCenterpieceTablescapeTable RunnerMiss Mustard Seed's Milk PaintMMS Milk PaintMMSMPPowdered PaintChristmas TreeDIY Holiday ProjectsHoliday DecoratingHoliday ProjectsHoliday CraftsMiss Mustard Seed's Milk Paint Team